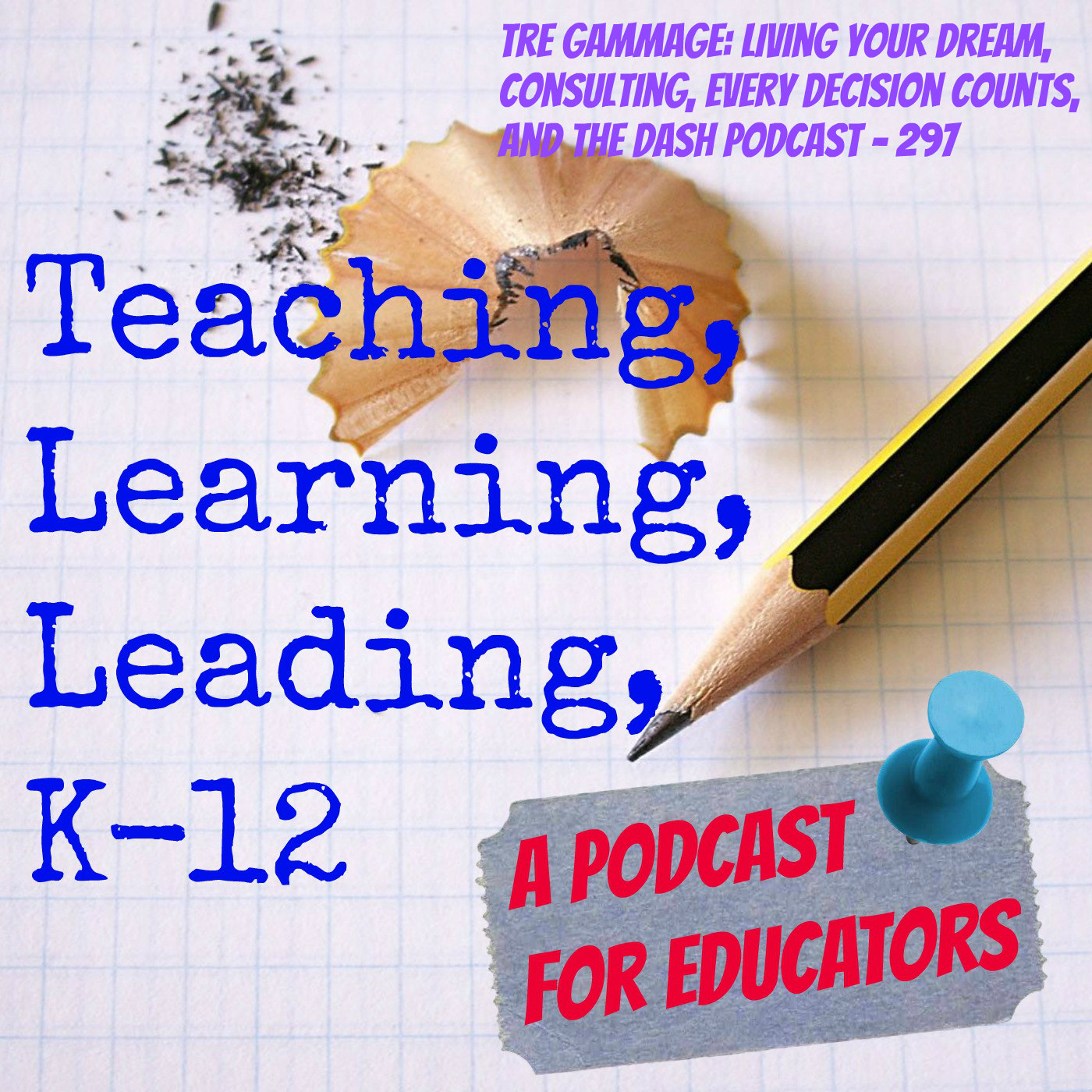 Tre Gammage notes, "As an entrepreneur, podcaster, and speaker my purpose is to make it easier to do what you love." This is episode 297 of Teaching Learning Leading K-12 where Tre and I talk about living your dream, consulting, his book Every Decision Counts, and The Dash Podcast.
Tre was born and raised in South Bend Indiana where football was his first love, and it carried him to his first dream - To play division 1 college football!
He recalls that his dream taught him a lot, "all we did was lose and half the time I rode the bench. Fortunately, while I didn't fit on the field I found my way off the field - Committing my time to diversity affairs, global perspectives, and decision making. These experiences made me well rounded and helped me realize my ambition to add value to everybody I have a conversation with. I didn't decide to chase my dream until one of my professor's asked, If money was no object what would you do with your life?"
Tre says, "When you see someone live their dream it makes you want to help them reach that
dream or live your own. Every day I wake up and do what I love to and leave a blueprint
for the next generation. "
Tre founded The Gammage Consulting Group. Its primary service is helping K – 12 schools implement social and emotional learning programs. He uses a 5 step process that takes you from managing multiple behavior systems to one school wide framework that supports growth
in Students and Educators. He also recently released Every Decision Counts: 8 Lessons I Wish They Taught Me in School. He is the producer and host of The Dash Podcast. Since 2015 Tre has spoken to over 100 audiences totaling more than 10,000 people.
Lots to learn today!
Have fun!
Don't forget to share and subscribe.
Enjoy!
Connect with Tre:
https://gcgshop.bigcartel.com/product/every-decision-counts-8-lesson-s-i-wish-they-taught-me-in-school
https://www.linkedin.com/in/tre-gammage-gcdf-54ab1765/
www.feedspot.com recognized Teaching Learning Leading K12 as one of their Top 20 K-12 Education podcasts! Awesome! Check it out!
https://blog.feedspot.com/k12_education_podcasts/
Length- 39:39