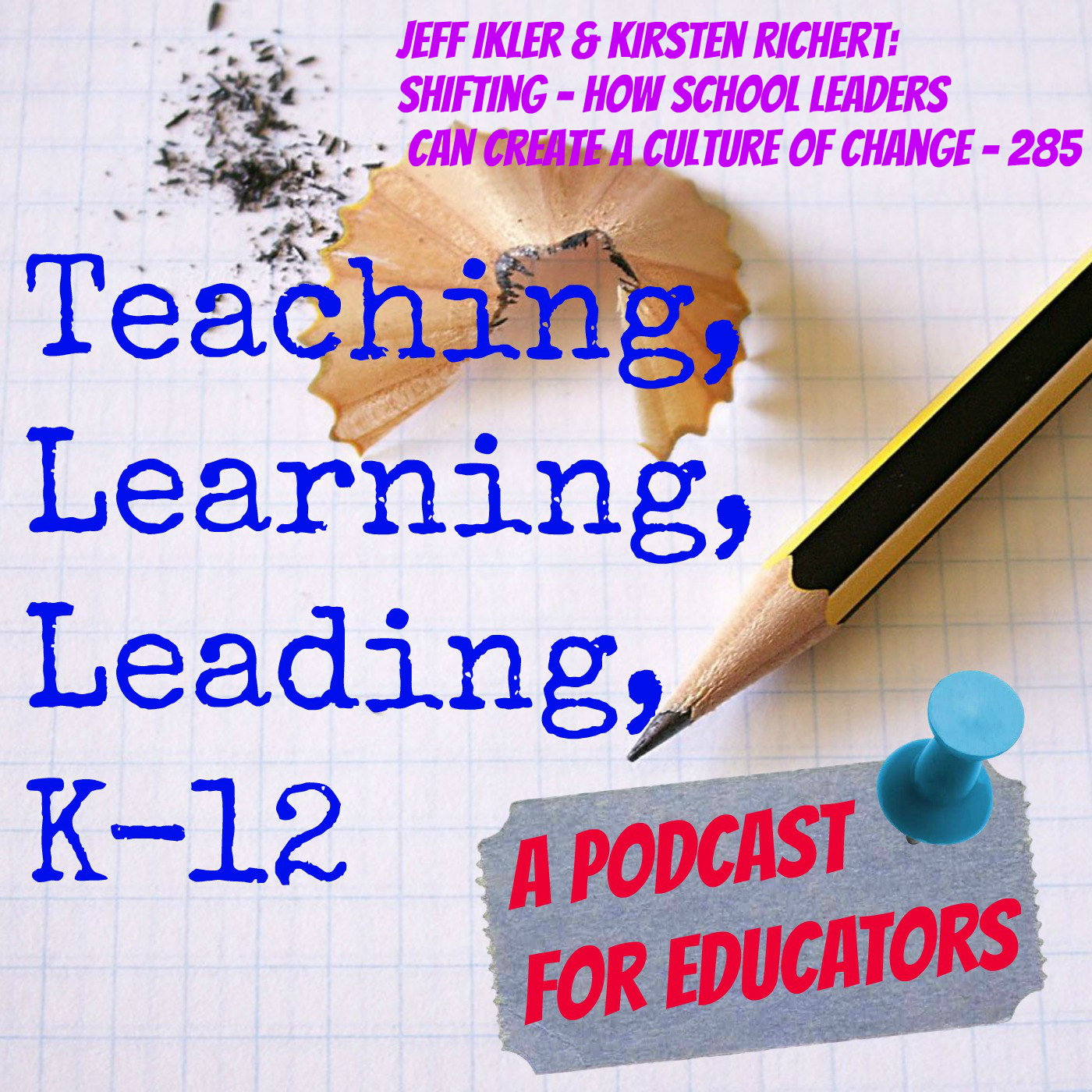 Kirsten Richert and Jeff Ikler talk with me today about their new book - Shifting: How School Leaders Can Create a Culture of Change. They also tell us about their audio podcast Getting Unstuck - Shift for Impact. Thanks for listening. Lots to learn. Please feel free to share and subscribe. This is episode 285 of the audio podcast Teaching Learning Leading K12.
Kirsten Richert (KEAR-sten RICK-urt) is an innovation expert who works with leaders on transformational efforts. Kirsten teaches Design Thinking, Communication and Innovation at a number of colleges in the greater NYC area. Her teaching draws upon her experience in three core disciplines—business management, ideation methodology, and facilitation.
She received her undergraduate degree in Social Science from Hampshire College, her master's degree in Social Studies Education from Teachers College at Columbia University, and her training in innovation and facilitation methods from SIT (Systematic Inventive Thinking) and ToP (Technology of Participation).
Formerly Vice President of Product Management and Marketing at Pearson, the world's leading educational publisher, Kirsten oversaw the creation of breakthrough "digital-first" K-12 curriculum. Trained as a corporate on-call innovation coach, she's helped teams plan new efforts, generate ideas, and execute on strategies.
Now, as an innovation catalyst, Kirsten guides change efforts for organizations, especially in the areas of education and human development. She is particularly interested in organizations that integrate the arts into their work towards social change, such as the Alliance for Arts and Health New Jersey, Real Beauty: Uncovered, and The Barat Foundation.
Jeff Ikler (EYE-klur) is Director of Quetico Career and Leadership Coaching, a firm dedicated to helping individuals overcome career issues, and leaders develop sustained changes in their leadership practices and organizations. He received his certificate in coaching from the Coach Training Institute, a firm recognized as one of the leading coach-training organizations in the world. His approach blends data-driven coaching, and consulting informed by working for more than 35 years in the corporate world.
Jeff holds a Master's in the Teaching of History along with a Bachelor's in History from the University of Illinois. He taught high school history in Maywood and Batavia, Illinois, for seven years. Like Kirsten, he is a certified innovation facilitator using the SIT (Systematic Inventive Thinking) process.
He is a former Executive Vice President at Pearson Learning where he directed the development of text- and technology-based products for all disciplines. He finished his career at Pearson by leading the development of its multi-dimensional Leadership Development program for school administrators, working closely with authors Lyle Kirtman and Michael Fullan. He currently works with Lyle Kirtman to support change in school districts and nonprofit organizations.
Kirsten and Jeff also co-host Getting Unstuck – Shift for impact, a podcast that helps individuals and organizations undertake productive change – change that helps them achieve their desired outcomes and impact.
Glad that you are here!
Thanks for listening!
Enjoy!
Connect with Kirsten and Jeff:
https://us.corwin.com/en-us/nam/shifting/book267770#reviews
https://podcasts.apple.com/us/podcast/getting-unstuck-shift-for-impact/id1439952788
https://www.queticocoaching.com/
http://www.richertinnovation.com/contact.html
https://twitter.com/RichertInnovate
https://www.linkedin.com/in/jeffikler/
https://www.linkedin.com/in/kirstenrichert/
https://www.amazon.com/Shifting-School-Leaders-Create-Culture/dp/1544381395/ref=sr_1_1?keywords=Shifting%3A+How+School+Leaders+Can+Create+a+Culture+of+Change&qid=1584022814&s=books&sr=1-1
Length - 44:15