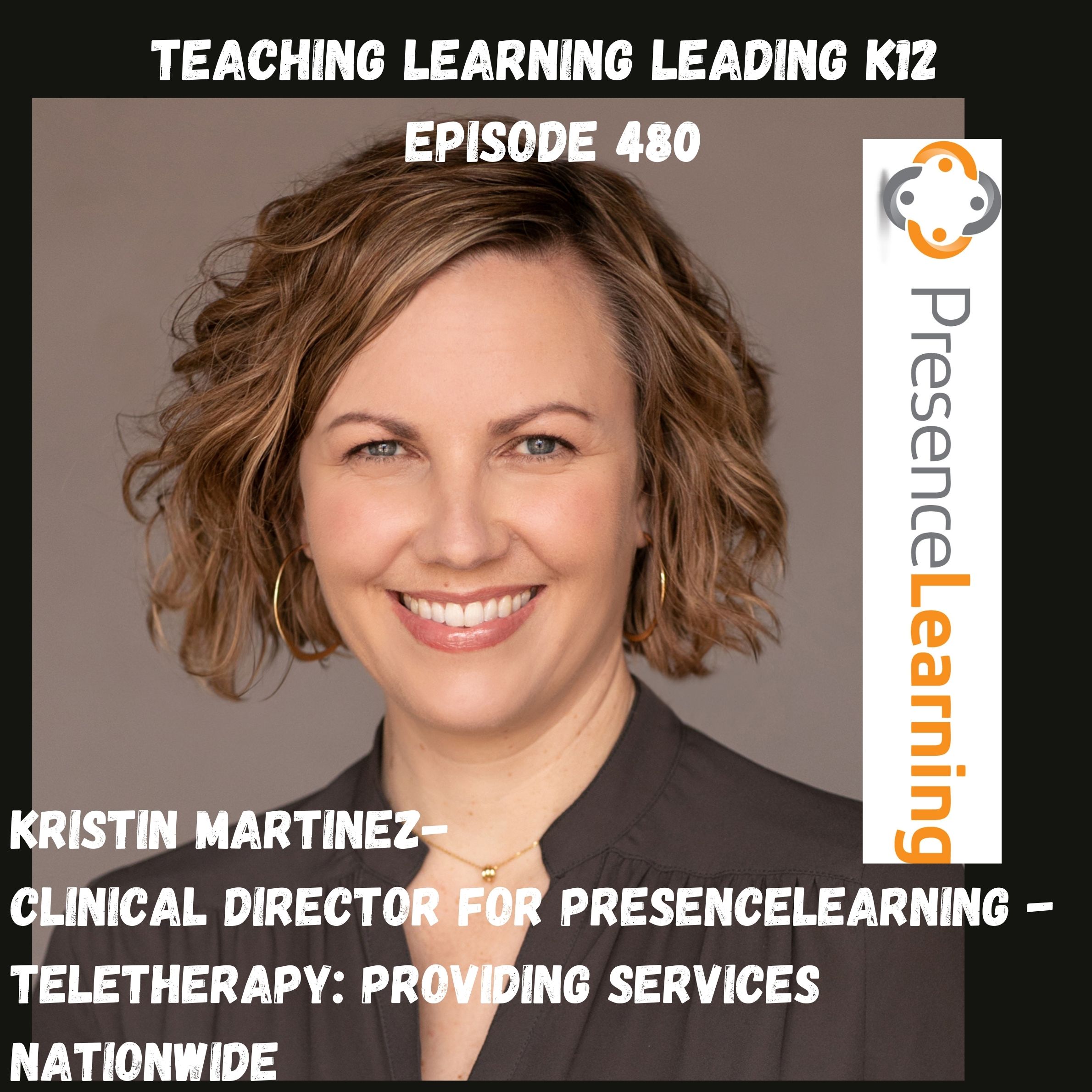 Kristin Martinez - Clinical Director for PresenceLearning - Teletherapy: Providing Services Nationwide. This is episode 480 of Teaching Learning Leading K12, an audio podcast.
Kristin Martinez received her M.A. in Speech, Language and Hearing Sciences from the University of Colorado at Boulder, and has been a speech-language pathologist for over 20 years. 
Kristin provided speech-language services to children in her local school district and in private practice before starting as a teletherapist with PresenceLearning in 2013. 
Kristin has supported teletherapy services for hundreds of school districts and has presented on the topic of teletherapy nationwide, and currently serves as the Clinical Director for PresenceLearning.
PresenceLearning was founded in 2009, based upon the belief that remote working structures can allow more clinicians to remain in the workforce, serving students and schools that need them. In building the teletherapy platform, PresenceLearning focused on the idea that technology cannot replace the human connections that educators make with students; but it can ensure that those important connections can happen continuously, soundly, and in a range of settings.
So much to learn!
Thanks for listening!
But wait...
Could you do me a favor? Please go to my website at https://www.stevenmiletto.com/reviews/ or open the podcast app that you are listening to me on and would you rate and review the podcast? That would be Awesome. Thanks!
Ready to start your own podcast? Podbean is an awesome host. I have been with them since 2013. Go to https://www.podbean.com/TLLK12 to get 1 month free of unlimited hosting for your new podcast. 
Don't forget to go to my other affiliate sponsor Boone's Titanium Rings at www.boonerings.com. When you order a ring use my code - TLLK12 - at checkout to get 10% off and help the podcast get a commission.
Oh by the way, you can help support Teaching Learning Leading K12 by buying me a soft drink (actually making a donation to Teaching Learning Leading K12.) That would be awesome! You would be helping expand the show with equipment and other resources to keep the show moving upward. Just go to https://www.buymeacoffee.com/stevenmiletto
Thanks!
Connect & Learn More:
https://www.presencelearning.com/
https://www.presencelearning.com/therapy-essentials-schools/
https://www.linkedin.com/company/presencelearning/
https://twitter.com/PresenceLearn
https://www.facebook.com/PresenceLearning
Length - 38:08