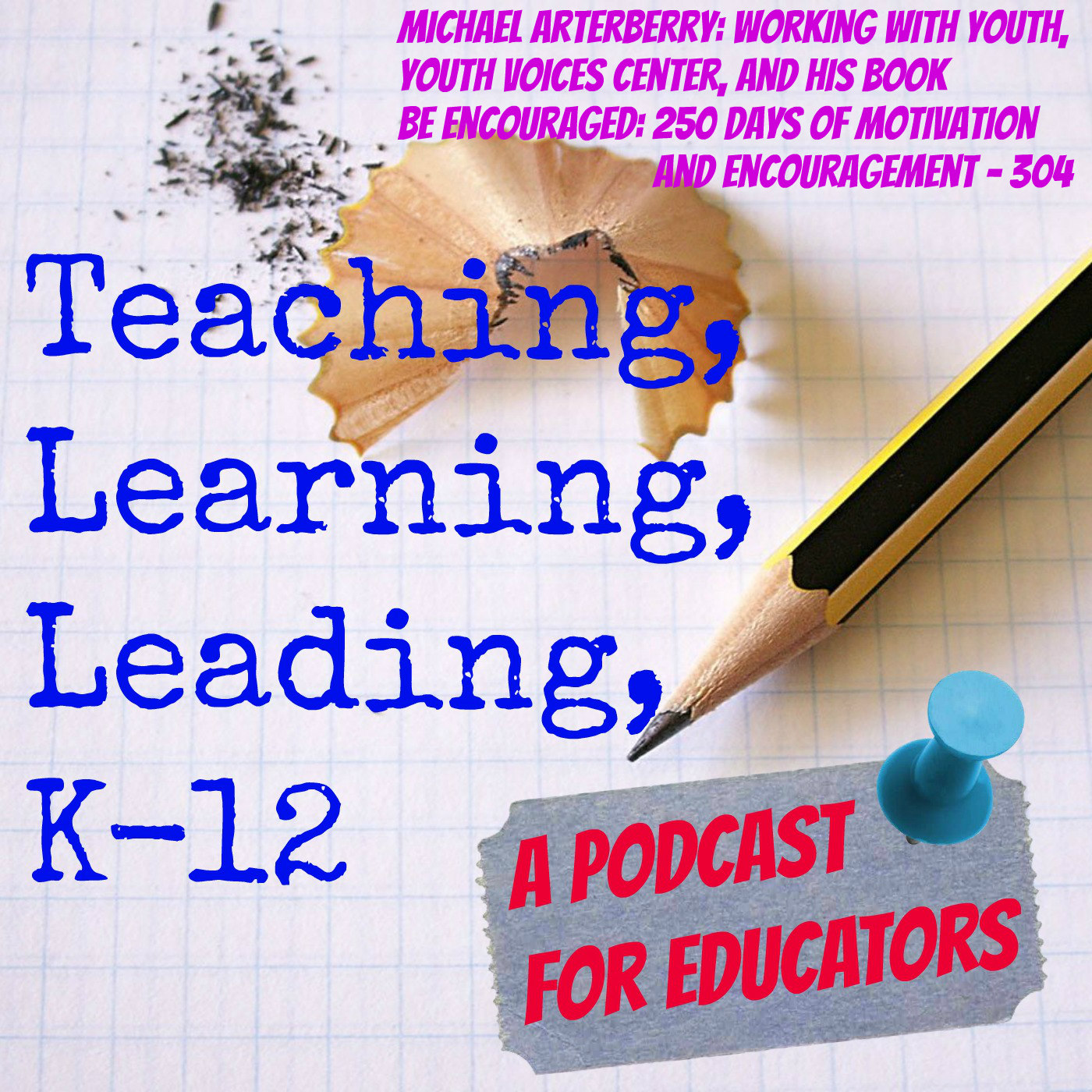 Michael Arterberry is the Executive Director of Youth Voices Center, Inc. and the creator of the Power of Peace Program, a dynamic motivational speaker and the author of Be Encouraged: 250 Days of Motivation and Encouragement. This is episode 304 of Teaching Learning Leading K12, an audio podcast.
As a teenager, Michael was fortunate to receive guidance from positive adult role models who helped him overcome adversities and set high expectations for his future. Grateful for the role these mentors played in his own development, Michael decided to dedicate his professional life to helping people navigate the difficulties of life and launch their future into motion.
In founding YVC - Youth Voices Center - in 2008, Michael drew heavily on his understanding and empathy for the pressures and difficulties of the teenage years. In addition to his own experiences growing up in poverty, Michael has worked with thousands of teens in a range of settings over the past 24 years as a social worker and counselor. 
Michael decided to form Youth Voices Center while working on the Alternative to Violence Project (AVP) in Green Haven Correctional Facility. Serving as a counselor in AVP, Michael was impressed by the progress of inmates who entered the program with plenty of hesitation and resistance and left the program raving about how much it transformed their perception of themselves and others. Realizing the power of this type of experiential program, Michael founded YVC and launched the Power of Peace program to transform the lives of youth.
In 2010, Michael was selected to receive a USA Network Characters Unite Award, given to individuals who demonstrate exceptional commitment to combating prejudice and discrimination while increasing tolerance and acceptance within their community.
In 2014, he was the recipient of the 100 Men of Color Award for leadership in education, government, mentorship, entrepreneurial success and community service.
And in 2016, Michael was awarded the EDUCATOR OF THE YEAR AWARD from Y-COP, the Youth Community Outreach Program in Mt. Vernon.
Michael is also the subject of his wife's book, "God Was Holding My Hand," in which Rachel Arterberry chronicles his journey of coming to know the Lord. Spanning from his tumultuous childhood, to a college football injury that turned into spinal cord surgery, Michael becomes self aware that God was holding his hand each step of the way.
Lots to learn and think about today!
Thanks for listening!
Don't forget to share and subscribe.
Enjoy!
Connect with Michael:
https://www.linkedin.com/in/michaelarterberry/
https://www.facebook.com/YouthVoicesCenter/
https://www.facebook.com/michael.arterberry
https://www.michaelarterberry.com/
https://www.youthvoicescenter.org/
https://twitter.com/M_Arterberry
https://www.youtube.com/channel/UCyQ3SLGIQjDVZ_kIqbgjpHg
http://www.shakethedirtexperience.com/
https://www.amazon.com/Be-Encouraged-Days-Motivation-Encouragement-ebook/dp/B07KQF3GWJ/ref=sr_1_1?dchild=1&keywords=Michael+arterberry&qid=1588016301&sr=8-1
michaelarterberryllc@gmail.com
Length - 44:54