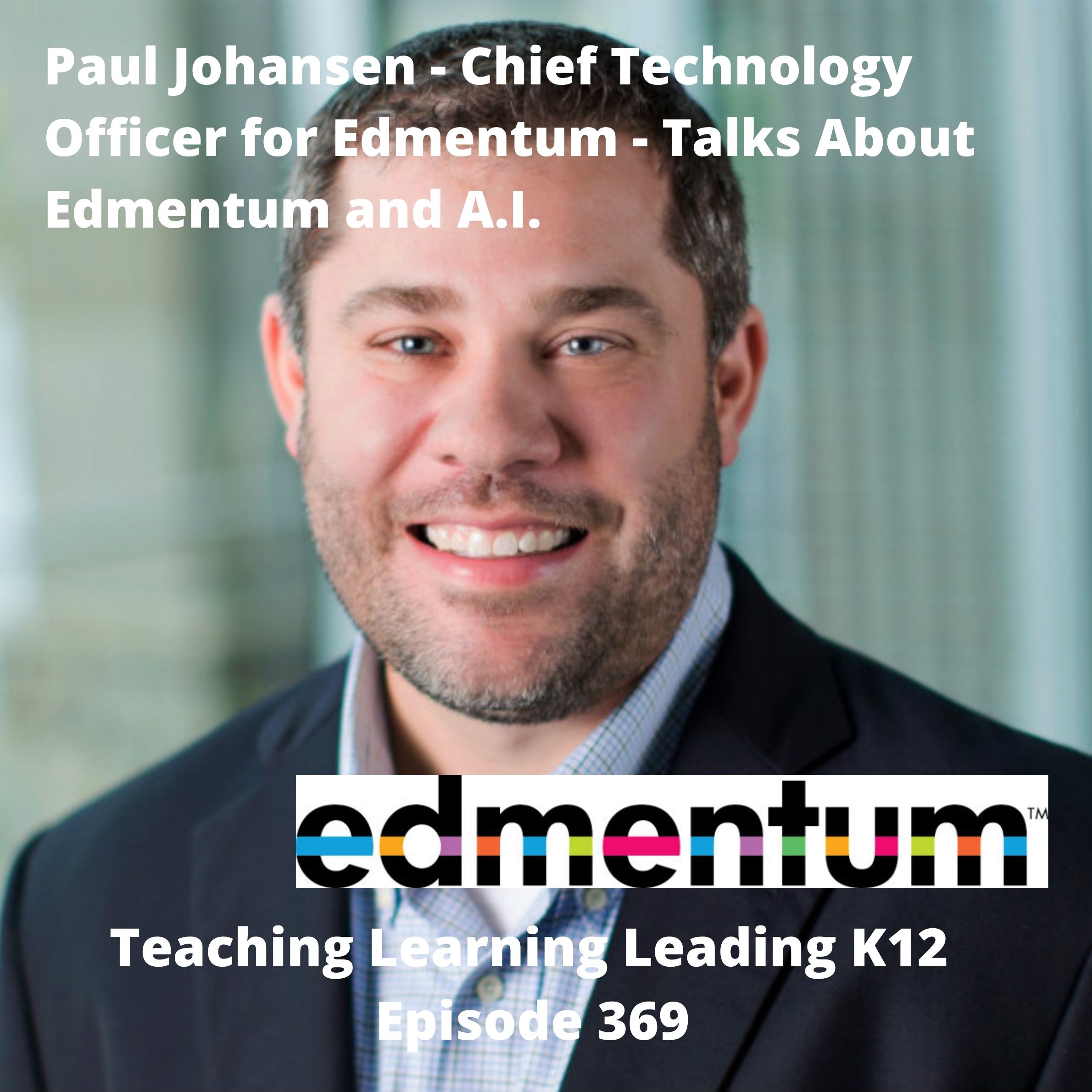 Paul Johansen - Chief Technology Officer for Edmentum - talks about Edmentum and A.I. This is episode 369 of Teaching Learning Leading K12, an audio podcast.
Paul Johansen joined the Edmentum team in December of 2009 as Chief Architect, overseeing all software development, architecture and data center operations. As Chief Architect, he led a team in launching the company's first SaaS offering, allowing development to expand and progress its ability to react to the needs of today's ever-changing educational landscape. 
In early 2012, Paul joined the Edmentum executive leadership team as Chief Technology Officer. Prior to Edmentum, Paul focused on software architecture and software engineering leadership – consulting with large organizations like Microsoft. He also served as Chief Architect at Midwest Wireless and led a global development team at Deloitte.
Outside of his role at Edmentum, Paul is a member of the SciMathMN Standards and Frameworks committee which advises on the science and math standards used in Minnesota. He also serves on the IMS Global LTI Product Steering Committee, on the Carnegie Mellon METALS Program Review committee, and has participated in advisory sessions for industry companies and organizations like Clever, Project Unicorn and Digital Promise. Paul holds an M.B.A. from MIT Sloan School of Management and a BBA. from University of Minnesota Duluth.
A little about Edmentum, Edmentum empowers educators to transform their approach and build school around the needs of each individual student through adaptive curriculum, research-based assessments for learning, and holistic educational services designed to make personalized learning an achievable reality for every student.
So much to learn today!
Thanks for listening!
Enjoy.
But wait...
Could you do me a favor? Please go to my website at https://www.stevenmiletto.com/reviews/ or open the podcast app that you are listening to me on and would you rate and review the podcast? Please? That would be Awesome. Thanks!
By the way, don't forget to go to my affiliate sponsor Boone's Titanium Rings at www.boonerings.com. When you order a ring use my code - TLLK12 - at checkout to get 10% off and help the podcast get a commission. Thanks!!!
Don't forget to register your team at www.ImpactEducationSummit.com  to participate in the Impact Education Summit June 23rd with Suzy Pepper Rollins – 3 time author & national presenter.  
Connect & Learn More:
https://www.edmentum.com/about/leadership
https://www.edmentum.com/resources/videos/introducing-eon-edmentum-online-navigator
https://blog.edmentum.com/2-ways-artificial-intelligence-online-learning-can-save-teachers-time
Length - 43:22