Episodes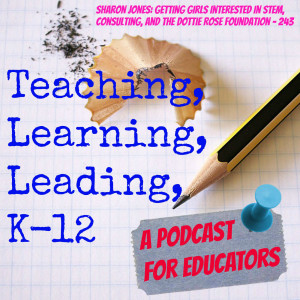 Saturday Apr 27, 2019
Saturday Apr 27, 2019
Sharon Jones is the founder and CEO of the dot.consulting company and The Dottie Rose Foundation, where she leads and implements technology-focused education and innovation. She is focused on getting girls interested in STEM career fields - Just check out her Dottie Rose Foundation.
Dr. Jones has found her passion in education and has served as a Career and Technical Education teacher in Charlotte Mecklenburg Schools and Wake County Schools as well as a Senior Technical Trainer with Central Piedmont Community College (CPCC).
Additionally, she is a well-known industry teacher, trainer, and mentor working for organizations with like-minded missions and has taught courses in computer programming, web design, eCommerce, Computer Science Principles and SAS programming.
Sharon has presented and been published nationally and internationally on data analytics, educational practices, and technology.
Her book "A Recipe for Success Using SAS University: How to Plan Your First Analytics Project" is being used in curriculum and classrooms around the country. She has more books coming soon.
Lots to learn today!
Thanks for listening!
Please share and leave a review.
Enjoy!
Connect with Sharon Jones:
Phone: 704.301.9397
Email: sharon@thedotconsulting.co
https://www.linkedin.com/company/dottie-rose-consulting/
https://www.instagram.com/dottieroseconsulting/
https://twitter.com/DottieRoseLLC
Length - 1:10:56