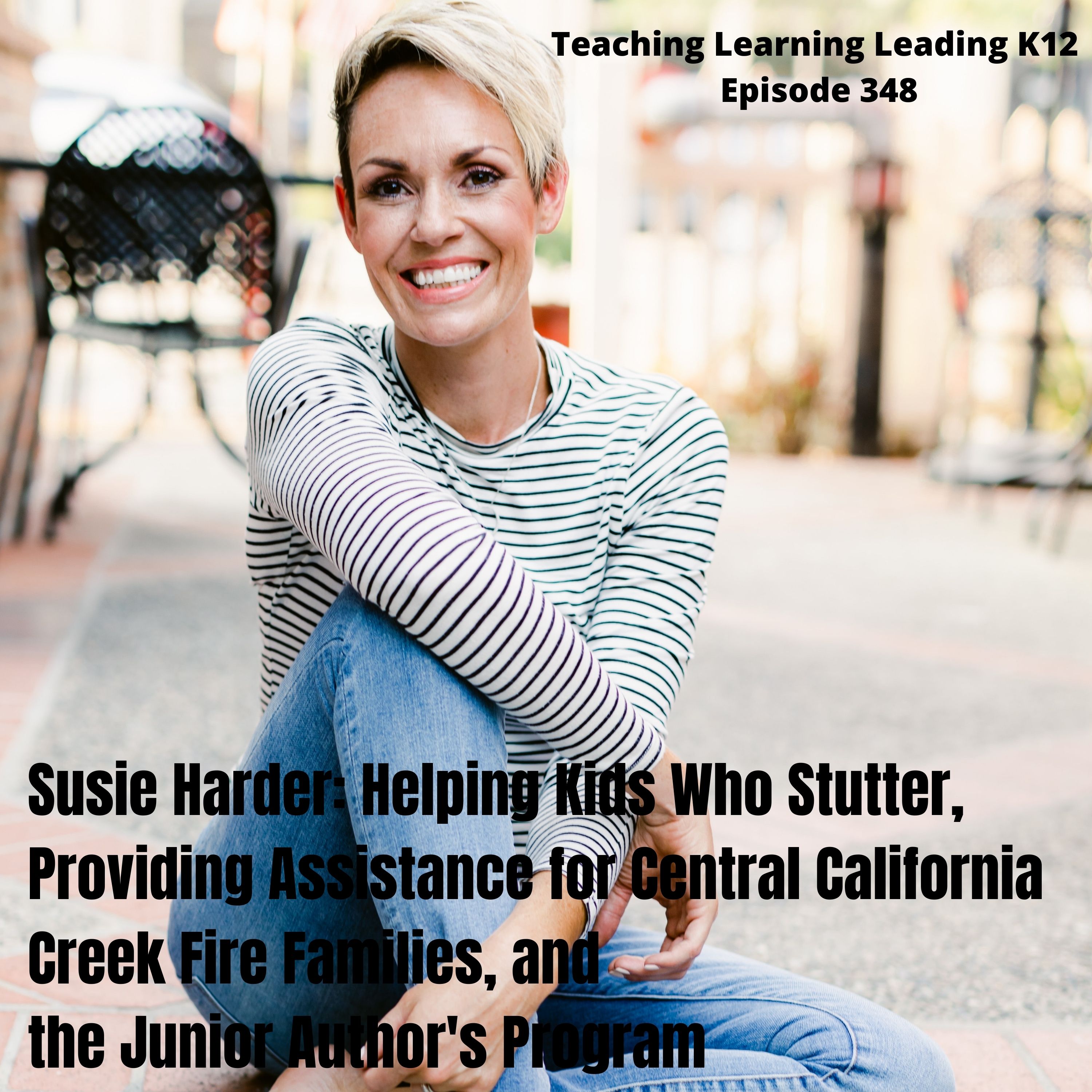 Susie Harder talks with me about helping kids who stutter, providing assistance for Central California Creek Fire Families, and the Junior Author's Program. This is episode 348 of Teaching Learning Leading K12, an audio podcast. By the way make sure that you listen to the end to hear where to go to get your gift for listening.
Susie Harder, M.A., CCC-SLP is an experienced clinician who devotes much of her passion to working with children who stutter. She works in private practice and the school setting to help support children and provides workshops and consulting-based support to school districts across California. 
Susie has a history of designing and building successful programs. During her time in Fresno Unified School District (2011-2015), Susie designed and piloted a framework for 100 elementary schools, where specialty services successfully reduced student speech therapy time up to 5 years. 
Most recently (2020), when the Central California Creek Fire started and children from her hometown lost their homes, Susie started brainstorming how to best support these kids. When she couldn't find enough resources, she simply decided to create it. Within a week, she had written a children's book themed around what these kids had just experienced, found an editor, taken a course on children's books, and started looking internationally to find the best illustrator. Her child development skills guided her toward sharing this inspirational knowledge with kids.
The Junior Author's Program engages students from around the world in collaboratively writing a children's book which will be sold to raise funds for families that lost their homes in the California Creek fire. Not only does it help students participate in a meaningful project, but the storyline of the book itself is written to help children heal and process their experience of losing their home in the fire.
Thus, she created a unique platform to reinvent how children connect with literacy and books. Through the Junior Author's Program, children across the world vote to decide characters, setting, and story details of a book as it's being created. Children get to see behind-the-scenes and connect with her through fun video posts and "Ask The Author Live" events, and are empowered by contributing to the content of the book from rough draft to published book on Amazon!
Susie is full of positive energy, encouragement, and is an invaluable resource for anyone she works with.
Lots to learn today!
Thanks for listening.
It would be awesome if you took a minute to open up the podcast app on your phone and gave the podcast a review and a rating.
Enjoy!
Connect & Learn More:
https://www.juniorauthorsprogram.com/
www.juniorauthorsprogram.com/TLL
https://www.linkedin.com/in/susie-harder-b6416929/
https://www.facebook.com/centralvalleystutteringcenter
https://www.facebook.com/juniorauthorsprogram
https://www.centralvalleystutteringcenter.com/
Length - 57:08